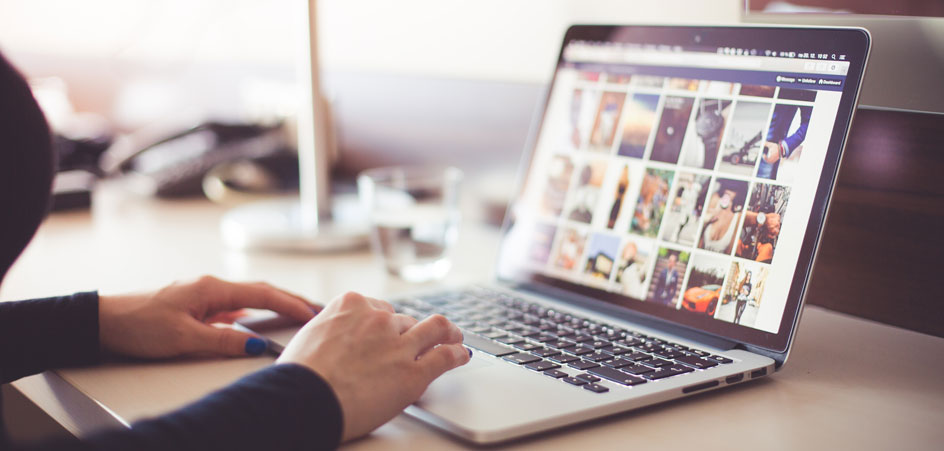 The numbers say everything about the importance of images on social media.
Tweets that contain images are 150% more likely to be retweeted.
LinkedIn posts with an associated image receive 200% more engagement than their text-only counterparts.
Facebook posts with images win 2.3 times more engagement than those without images.
This isn't surprising. Social media is all about telling your brand's story. Visuals make that story easier to tell and help your content stand out amid users' saturated feeds.
But images don't come first. You must decide on the story your brand ought to tell, develop a social media strategy to convey that story, then develop tactics and procedures to make it all work. (Get started on your own social media strategy with these tips from our blog.)
Then it's time to pick your photos.
Choosing the right image
Three types of photos appear on social media: Owned, User-Generated, and Stock.
Owned photos are images that your brand creates, such as photos from the company picnic or images from the factory line. Original, owned images tend to work well in social media posts. Photos of your real employees and facilities add authenticity and a personal connection to your content. You get none of that from stock photos.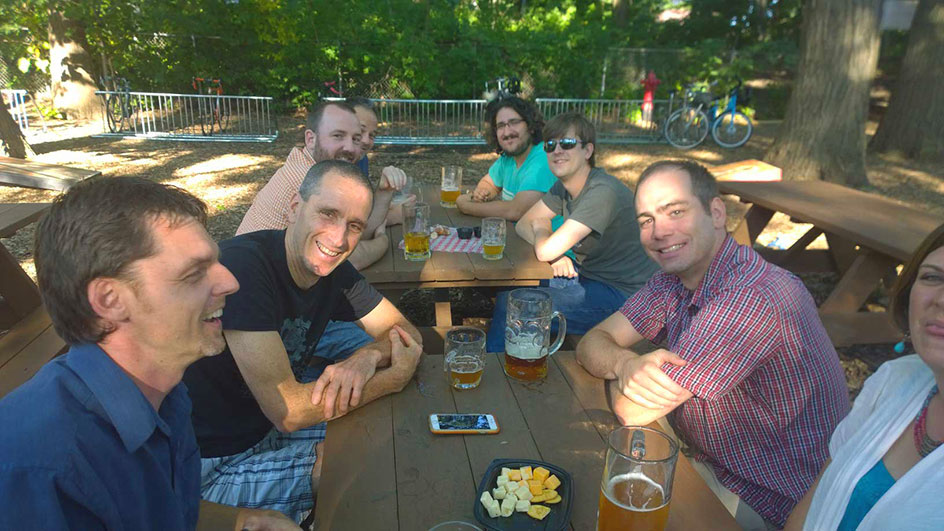 Here is a photo of Northwoods employees after hours at the local beer garden.
Company employees can shoot photos on cell phones, and that's great -- your fans on social media don't want the content to feel slick. Highly produced photos can look like ads, which could reduce engagement. You don't need to be a pro, you just need clear photos that help fans connect with your brand.
Principles to keep in mind when sharing owned images on social media:
Though you don't need to be a pro, it is best to know the basic principles of photography; here's a guide to get you started.
For most social platforms, landscape orientation works best. (Pinterest is the exception).
Especially in larger organizations, enlist the help of others to find visual content. You can't be everywhere. Put out the call to others on your team to help you find interesting pictures. (Of course, this also applies to interesting stories.)
User-generated images come from fans, clients, distributors and anyone else who volunteers to be a brand evangelist. Often, fans will post images of value to your business on their own social channel and either tag your brand or hashtag the post so you can find it.
This is an excellent form of content, especially if you have a very engaged audience. Such images are testimonials; they show that people use and like your products/services enough to shoot and share pictures. A positive message that doesn't come from you packs a lot of power.
Sometimes, fans make it easy for you to send these images to your social page. But sometimes you must search for them. On Twitter and Instagram, check hashtags specific to your brand and relevant generic hashtags. For example, McDonalds' marketers could search #McDonalds and #FastFood to find photos fans post about them. On Facebook, find, join and monitor groups related to your industry.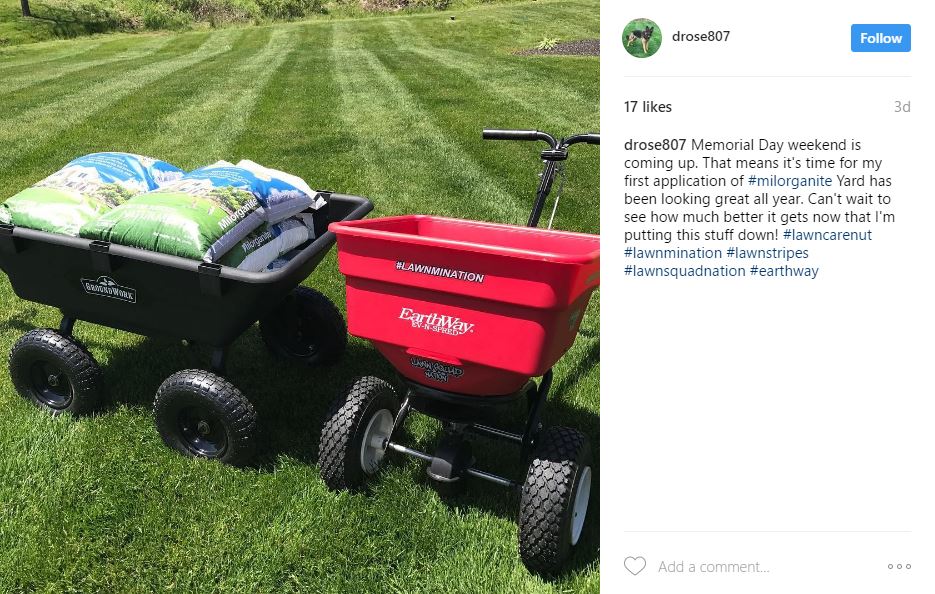 Users sharing images of their yard on Instagram after using the milorganite fertilizer.
Still not finding much after all that? Try asking! Often, a simple call for submissions will prompt your audience to send photos.
Principles to keep in mind when sharing user-generated content:
Watch for competitors. Fans or distributors may catch competing brands in the background of the photo. You don't want to highlight their products in your content.
Quality matters. Even if the subject of the photo is what you're looking for, do not publish a blurry photo.
Provide attribution. Work the contributor's name or username in to the post copy (example: Ron S. sent us this photo of his…) or add attribution as a photo caption or place it at the end of the post (example: Photo by Ron S.).
Stock photos are the least personal to your brand and rarely the best means for telling your brand's story. If you do use them, think about customizing them. Simple fixes -- adding a filter or effect, adding text, or branding the image -- can lift it from generic to just-right. If you don't have Photoshop, these online tools can help you fix up the images in no time.
Where do you find stock images? We recommend:
Principles to keep in mind when sharing stock photography:
Attend to copyright. Many images require attribution in order to be used in your social media posts. This guide walks you through the basics.
You're probably not alone in seizing upon a great free image. Other marketers might grab it, too. Choose images that are specific to your brand or industry and not overused online. Find out where else your image has appeared by doing a Google Reverse Image Search.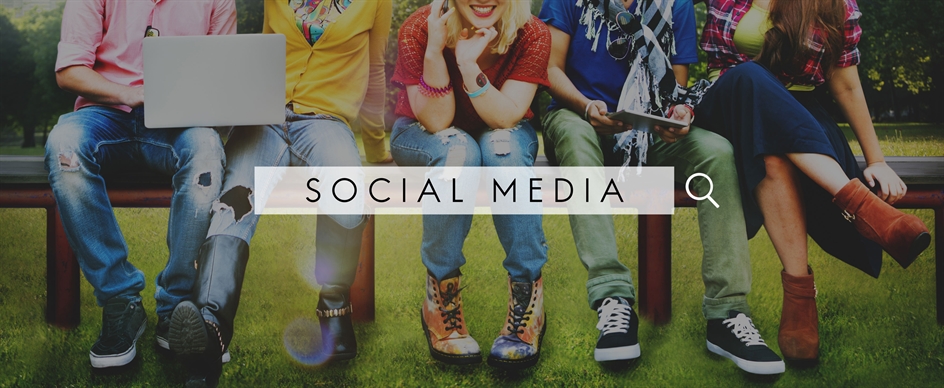 A stock photo we have used to promote a past blog on social media.
Other Visual Resources
We've focused on photos. But other sorts of images can work on social media, too. Product photos, screenshots, and infographics are all great forms of content. Experiment to find the image types that fit your brand and content strategy.
Optimizing your image
Before you post that perfectly apt image, optimize it for each social platform.
Different platforms like different sizes; match your image size to the platform ideal so your images look their best. (This cheat sheet highlights the most important social media image sizes.)
On Facebook and LinkedIn, limit the amount of text in your image. Though these rules might be changing, Facebook has confirmed in the past that, especially in advertising, they prefer images to contain as little text as possible.
On Twitter and Pinterest, place titles or calls-to-action on the image. Text space is minimal on these platforms. Text in your photos gets a message across as it frees up textual space.
Make sure the image is on-brand. It may seem like the perfect fit for your post, but if it is a jarring departure from what your usual style of branding imagery, it will strike your fans as a little off. Keep a consistent look and feel across all platforms, in both in your post copy and in your imagery.
Social media changes constantly and is highly personalized. We're preaching best practices, but we're not dogmatic about them. They're right for most brands, but maybe aren't perfect for you. Be flexible. Be experimental. Take time to test different types of images and formats. Find the one that's perfect for your brand.