What is Influencer Marketing?
Influencer marketing is a little like winning celebrity endorsements, but (probably) without Beyoncé or the Kardashians. Celebrities, in your arena, are key leaders in your industry. Your target audience engages with those leaders. You reach your target audience through them, primarily by means of social media.
The formal definition: Through this digital strategy you promote your company's brand, products or services by leveraging people, brands, or groups that have strong digital presence.
How can Influencer Marketing Help Me?
According to Statista, 81% of the population has a social media profile; clearly, you can reach your audience through social media. Using influencers will help you expand your reach into otherwise unreachable segments of your target audience.
Simply reach out to an influencer. Ask that person to share a piece of your existing content. Ask for an interview, or just a quote or bit of advice, to enrich a piece of content you're developing. What's in it for the influencer? You're featuring that person as an expert. Naturally, that person will be inclined to help, by sharing and/or contributing to your content, because you've created a mutually beneficial opportunity.
Now that your content has been tweeted or posted to an influencer's social media account, sit back, relax and watch the magic happen. Don't be surprised by
A sudden spike in traffic to your website
Exposure of your brand to many new eyeballs (enhanced your brand awareness)
More and more potential leads reaching out to you to request your product or services
Skyrocketing online following
Increased user engagement with your content and social media
Sound too good to be true? Well, maybe you can't really just sit back and relax. Success requires some strategic planning, persistence, and work. Northwoods is here to walk you through the process.
How do I find Influencers?
First, find the right social influencer for your business or organization. To do that you need to know and understand your target audience. Targeting millennials? Then you need to know which influencers engage millennials. Your brand will resonate more deeply with your target audience if they hear about it from a brand or person they know, like and trust.
Great! So how do I do that?
Well, that's a little tricky.

Who follows you?
Start by checking out who already follows you on social media. If you have a twitter account, pay attention to your Twitter Analytics. It identifies your top follower each month.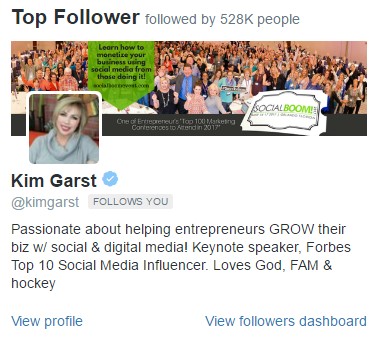 One of our top followers is Kim Garst from Boom! Social.
Pay attention to who already engages with you on social media. Did an influencer like one of your posts in the past? Start there. You found someone with a strong digital presence who already enjoys your content.
If you have no idea of your target audience's interests, check out who else they follow and engage on social media. Social listening can come in handy. Check up on your networks regularly to read and study what others in your industry are doing and discussing. Use these insights to develop content ideas while staying on top of trends and the latest news.
What does Google think?
Google can tell which brands, content, and websites attract people; it pushes those brands' websites to the top of search results. Use this to your advantage. Simply search some of the keywords you plan to use in your own content and see who already leads the way. This is a great way to discover influencers who can provide you with expert tips to enhance your own content.
But don't reach out to direct competitors. You don't want to accidently put in a ton of effort only to help out your rivals.
Purchase Online Tools
Many online tools can provide insights about current social influencers within your industry. These tools can do more than identify them; they can tell you what the influencers are talking about. At Northwoods, we use a tool called BuzzSumo.
Let's say you're in the business of selling carpets. You might consider writing a blog on how to keep carpets clean. A tool such as BuzzSumo would help you determine who already dominates the conversation about carpet cleaning tips.
It will also identify the most successful social media platform for carpet cleaning tips. Looks like Facebook is the champ of content pertaining to carpet cleaning.

Take your investigation to the next level by reviewing the original source of the popular content. This will allow you to learn more about the influencer and the influencer's style.
Do your homework before you reach out to anyone. Know the type of content the influencer posts, and make sure that yours is a good fit. Must we say it? OK, we will: Offer GOOD content. Nobody likes spam or sales copy.
You can see in the example below that this influencer worked with Stanley Steemer in writing this piece. Obviously, this influencer doesn't mind collaborating with other companies. This could be a great place to start.


But before you get too excited, make sure that your target audience aligns with those who engage with the social influencer's content. BuzzSumo allows you to see everyone who has shared the content in question. Do you intend to reach young mothers? Jackpot!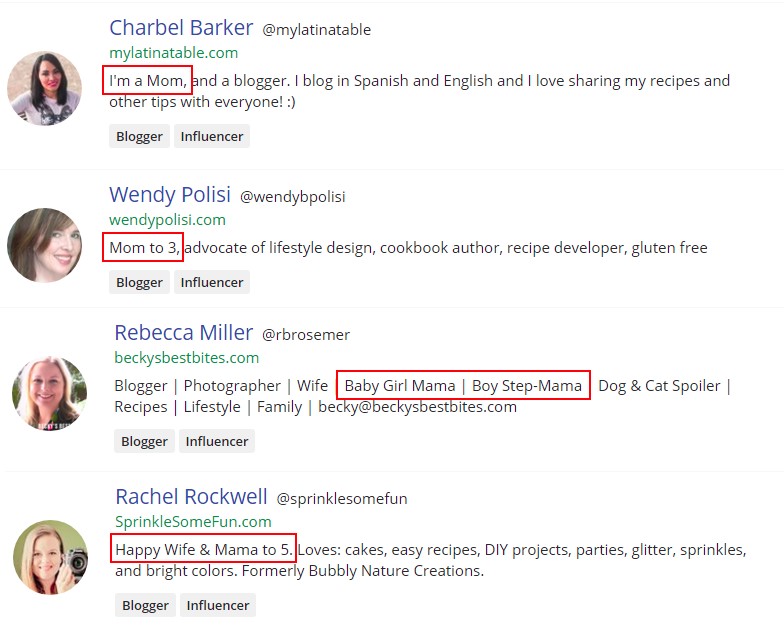 Note that a high number of followers or page likes on social media does not necessarily make a person an influencer. Vet their posts; make sure that people actually engage with the content. Anyone can buy a list of followers to create the illusion of being a heavy hitter in an industry. True influencers build followings naturally, because their loyal fans engage with their content.
I found the perfect influencer, now what?
First, don't blow it by asking the influencer to share poorly constructed content. Influencers won't risk tarnishing their reputations or losing their followers' trust by pushing out haphazard stuff. Share a great piece. If you don't have one, develop an amazing blog, video, or podcast that would be hard to turn down.
(For more ideas on how to you create content that social influencers will love, check out this article.)
How to Reach Out to Influencers
Start by sending an email. Craft a captivating subject line; half the battle is getting your email to stand out from the thousands that fill an influencer's inbox.
(For more ideas on how to craft the perfect subject line, check out this article.)
Keep your email short and to the point. No one will take the time to read an essay. Get the job done in two or three sentences. Don't fluff up your language. Don't sound as if you're selling something.
Make sure you highlight the value you are bringing to the influencer. Savvy marketers know the value of link juice, so mention that the influencer will get an external link out of the deal. Some influencers will be happy to help because of the boost to their reputations, but you might sweeten the deal with some money.
I haven't heard back, now what?
A week has gone by. Nothing. You could send a follow-up email, but it will likely end up in the dead-letter bin.
Still, be persistent. Reach out in a different way. Contacting your influencers through their websites could get their attention. Most websites have some sort of contact form, which is usually closely monitored. A filled-out contact form with a quick message could stand out more than a regular email.
Reach out through social media. (It's funny how people are afraid to use social media for its purpose, which is to be social!) A direct tweet can do the trick -- something like "@Influencer I sent you an email looking for carpet cleaning tips on a new blog I'm writing. Got any advice?"
Social media makes your request more public, but don't worry about that. It puts a bit more pressure on your influencer to act, and that is not a bad thing. A bolder approach might seem scary at first, but once you receive a couple of responses to your request you will feel unstoppable.
Still No Reponses?
Well, you can't expect everyone to get back you. Social influencers, who are constantly working to grow and reach out to their loyal followings, are busy people.
Diversify your social-influencer holdings. Reach out to many different influencers; a few will get back to you. The more you approach, the better the odds of establishing a mutually beneficial relationship.
It's still about content – and courtesy
Digital marketing always comes back to content. Develop content that makes you look good and makes your influencers look good for sharing it.
Be nice. Always thank anyone who helps you out. And return the favor -- offer you own services in promoting an influencer's event or article.