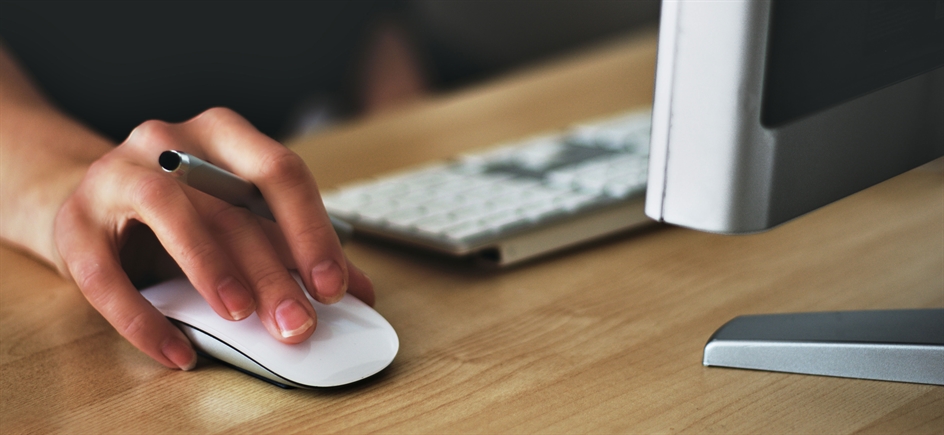 Strong data-driven content brings new users to your website, and that's a start. Once they arrive, you must sustain the momentum and convert visitors into leads and leads into clients. How do you do that? By taking the following six steps for crafting a great user experience and developing a coherent strategy around your content marketing.
1. Have One Clear Call to Action
Focus on one call to action on each page, so your users don't have to guess what they should do next. Do you want them to subscribe to your blog? Sign up for your newsletter? Request a quote? Submit a contact form? Download a whitepaper? Don't overwhelm them with a host of options. Pick one.
Align that call to action with your content. For example, our website accessibility page displays a form for a free evaluation of the accessibility level of your website. Users interested in accessibility will be far more likely to sign up for that than sign up for, say, a general newsletter.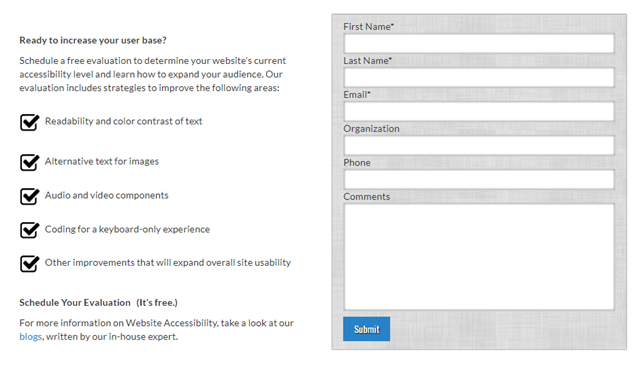 2. Optimize Your Forms
Make conversion as simple as the push of a button; if possible, allow your forms to autofill user information.
Preselecting fields on a form can also improve user experience. For example, we offer free digital marketing workshops every week. Our sign-up forms preselect the workshop based on the page where the user clicked on the form. The preselection does not restrict users; they can sign up for as many workshops as they want in one place.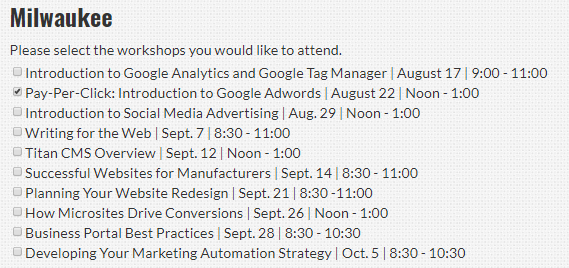 But be careful. Make sure that preselections actually help your users. Automatic sign-ups for multiple newsletters and offers annoy them.
Keep your forms short. Asking for too much information will immediately turn off your visitors. Ask only for what you absolutely need to fulfill the request. Place a link to your privacy policy near the Submit button, to assure visitors that you will not sell their info to spammers. This will counter the natural reluctance to provide the information you request.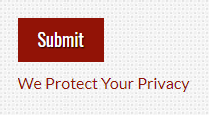 3. Follow Up Every Lead
If someone signs up for your newsletter or blog, take advantage of the opportunity for a contact point and follow up right away. A simple thank-you message lets them know that you've received the request. You can easily set up an automated email sent to users as soon as they submit their requests.


Here is an example of an automated email I received after subscribing to a mailing list.
Automation alone won't get the job done. Users fill out contact forms expecting a real person to reach out to them. You can automate an email that says a representative will be in touch shortly, but be certain that this actually happens. Research shows that 30% - 50% of sales go to the vendor who responds first.
4. Personalize Your Content
Personalization is a web trend with legs. If you want users to convert, give them good content directly related to the needs and wants of particular users. Depending on your range of services, users could bring a wide range of goals to your website. Cater to them by providing real-time personalization of content. Read more about web personalization here.
Bark up the right trees. For example, Northwoods offers a webinar series geared toward digital marketing for manufacturers. We promote that series to manufacturers, but not to current and potential non-profit, entertainment and financial clients. They don't care about our strategy for manufacturers, so we don't pester them about it. Over time, promotion of content that is irrelevant to a market segment trains that segment to tune you out.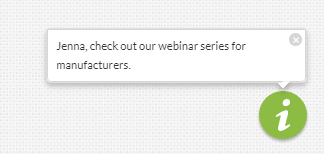 The site message above displays only on our manufacturing webpages. It includes the first name of the user in order to better grab that user's attention. We also make sure the site message does not show to people who have already registered for a webinar. Promoting the webinar to someone who has already signed up leads to confusion and annoyance.
5. Update Your Content
Well-written content can draw new users to your website over long periods of time. All the more reason to update your copy. Make sure that your keywords are still relevant. If the keywords have shifted a little, update your content by including the new keywords in your title and metadata.
As you update, take a fresh look at your formats. Make sure that your content is easy to read and scan. Break up your content with header tags, images, and lists. They direct users to the bits of information they seek when users lack the time to read the entire page. Shorter paragraphs are more likely to be read than longer paragraphs.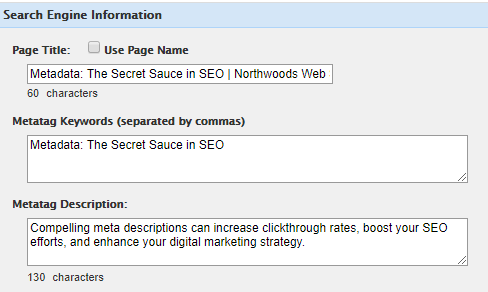 6. Incorporate Testimonials
Studies have shown that written testimonials can raise customer conversions by 25%. In addition to a list of testimonials on your homepage, include certain testimonials on pages with content related. In-content testimonials add credibility to your message. They also show your visitors that you've worked in their industry and done so successfully.
Incorporating testimonials into your blog posts and other content helps reduce marketing speak in your original content. Readers won't take your word for your company's greatness. The opinions of clients who've worked with you carry much more weight. Research shows that "92% of people will trust a recommendation from a peer, and 70% of people will trust a recommendation from someone they don't even know." Let those satisfied customers speak through your content.