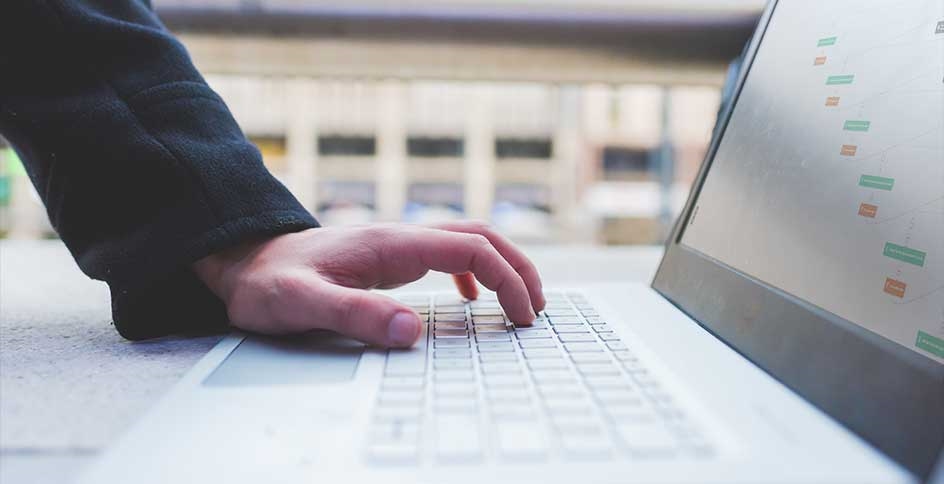 Marketing automation saves you time -- unless your platform is cluttered and inaccurate. The new year is the right time clean and tune your business marketing automation, to make it the time-saver you intend it to be.
Get started right here. Survey your marketing automation and associated lists and make some smart updates. We'll walk you through.
Contacts
Update contact information
A lot can change in the lives of your contacts as a year goes by -- email addresses, job titles, phone numbers, and more. If your marketing automation doesn't keep up, you're wasting time and effort.
Clean up your contacts in two ways. For key contacts and clients, have a member of your sales or account team examine the list and verify all contact details. For lesser -- but still important -- contacts, check the reports of all recent email marketing campaigns to spot bounced emails. Follow up with inquiries and update the information.
Delete duplicate or out-of-date contacts

Double entries can occur with some marketing automation platforms. Scan your list for duplicate names and consolidate multiple entries. While you're scanning, delete any contacts that are no longer of use.
Delete competitors
Competitors will sometimes make their way onto your contact list. This doesn't help you, and it can hurt. Does your marketing automation platform charge by the contact? Does it allow competitors too much access to your information?
Search your contact list for any competitor organizations. Delete them.
Forms
Delete old forms
Obsolete and redundant forms clutter your marketing automation platform. Delete them.
Delete unused form fields
Fields within forms, too, can become obsolete. They clutter your site and degrade user experience. Delete them.
Automation
Simplify automation where possible
The simpler your automations, the less likely you are to encounter hiccups in your marketing automation workflow. Review your automations and check for ways to simplify processes.
Automate additional processes
Do you continue to manually perform marketing tasks that really should be automated? Now's the time. Identify those tasks and automate them. A little effort now will make all of 2018 better.
Delete old automations
Just like your forms, old marketing automation workflows can stack up and clutter your platform. Those tests and relics of old processes or events -- delete them.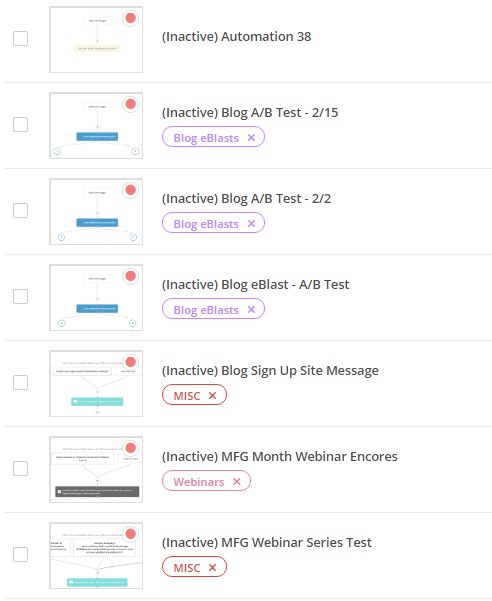 Start by checking your inactive automations. Chances are, some are ripe for deletion.
Email
Delete unused email templates or unused saved emails
Thickets of unused emails make it more difficult to find the content you seek. Delete them.
Review reports
Which automated marketing efforts are winners? Which are not? You won't know if you don't review your reports. So do that, and incorporate the lessons of 2017 into your 2018 strategy.
Offline
Create or update records of tags, forms, and automations
Keep a record of your content. If you work with a team, it will help keep everyone on the same page when they work on projects together. If you're a one-person team, the content record will help you find the content you're looking for faster. It will also ease the transition to a new platform.
What you track or record depends on how you use the automation platform. Create a spreadsheet that documents your tags and their purposes. This will help any new user of your marketing automation platform quickly grasp contact details. We also recommend documenting the location of any forms on your website. Specify their purposes and the actions that take place within the marketing automation platform when a visitor fills out the form. These actions may include adding tags, entering the visitor as a contact within marketing automation workflows, or sending a welcome or thank-you email. After creating records of these processes, move on to any other processes of value to your organization.
Once you De-Clutter: Test, Test, Test!

While cleaning up, you may inadvertently delete something that is being used in a different process. Double-check each workflow; make sure you didn't break anything.
What? You haven't started marketing business automation yet? We can help; check out our blog that covers the basics. Get started -- it's 2018!