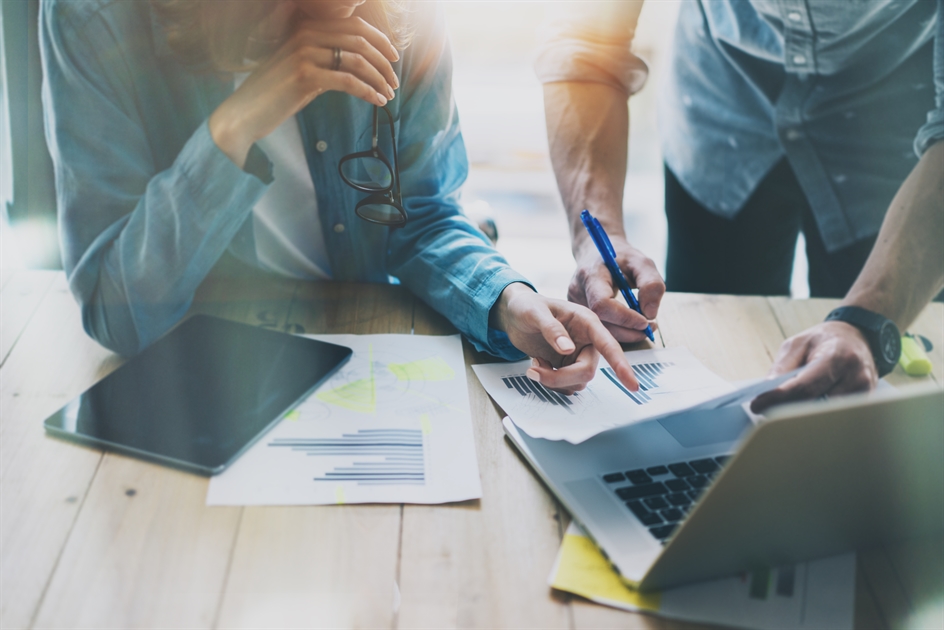 At Northwoods, we have a robust, successful digital marketing strategy – now.
We didn't always. We were newbies, once, like everyone else. We attended the Digital Marketing School of Hard Knocks, in which we learned, developed and honed our digital marketing strategy by trying, failing and trying again until we got it right.
Now that we've gained expertise, we've made a practice of sharing it. Read on to reap the benefits of our past mistakes and ongoing acquisition of knowledge.
Web Content
Your website pulls everything together. Optimize it to create a strong digital strategy. That takes time, and the task never really ends, as achieving one improvement goal inevitably leads to creation of the next goal. We've been tireless in this, and the results have justified the effort. Here's what we've done.
Calls to Action
After a quick search, a potential client lands on your web page and peruses the content. The prospective reads the end of the page wants to learn more. But where to go? The page offers no clear way to engage further. Instead of wasting time scouring the site for an answer, the visitor – no longer a potential client -- moves to the competitor's link that followed yours in the search engine results page.
Conversion rates vary by industry, but the best landing pages convert visitors at three to five times industry average. So make it as easy as possible for users to complete your goals. Put some sort of call to action at the bottom of each page, and customize that call to align with the content of that page.

Call-to-action forms reside at the bottom of many Northwoods web pages.
We're busily adding such forms to each of our pages. (We wish we'd done it years ago, but you live and you learn.) You can see these in action on our manufacturing web design pages. These forms, fully customized to page content, highlight the benefits to prospects who take the next step.

Email subject lines of form responses reflect the user's topic of interest.
The form is also customized on the back end, so our team knows exactly what this client cares about.
Visually appealing web pages
We all judge books by their covers. We can't help it. First impressions matter.
The same goes for web pages. People will take a pass on even the best content if you present it poorly. If you appear incompetent in the visual arena, many visitors will assume that you are generally incompetent.
Even in the volatile arena of web design trends, some principles remain constant. We're updating our web pages to incorporate more of these classics.
See them at work in one of our newest web pages on accessibility. The page features a large banner and bright imagery, and it adheres to a site-wide common theme. We not only provide information on our accessibility process, but also represent it with icons.

This page demonstrates the process visually and with text.
Keyword-Rich Content
Keep SEO in mind when you write for the web.
Our search engine rankings rose substantially after we implemented and then optimized SEO in our blog content. Then we realized that our overall web content needed that focus, as well. We identified our ideal audience, then we researched the terms that audience used in the Google searches that caused them to land on our blogs. The next obvious step: Insert those keywords into our web copy.
We started with our manufacturing-focused pages. Before re-writing them, we conducted thorough keyword research to learn which keywords our ideal client already used to search for our services. Then we peppered our content with those words. Now, we embed the most relevant keywords into all our new content, and user search keywords often inspire our content topics.
Metadata
We know that metadata hasn't been a ranking factor within Google's algorithm since 2007. But plenty of reasons remain to have metadata on your site and to fully optimize it. We have written complete meta descriptions for almost all of our web pages.
Blogs
Our early blogs offered visitors a very different experience than the one you're having here. The old posts were short, light on images, and contained very few internal or external links. Once again, we've learned from our early errors.
Photos
Blogs containing images win 94% more views than blogs without. Now, a header photo sits atop each post we publish, and imagery appears throughout.

A 2015 blog vs a 2017 blog
Links
Both internal and external links increase search engine rankings and reader engagement and goodwill. We include as many relevant links as we can within our blogs.
Video
Users have embraced video, and so have we.
We're integrating videos into our blogs. In a recent blog on our Titan CMS website, videos demonstrate the new capabilities of Titan CMS v6.9, our latest release. Videos epitomize a piece of classic messaging advice: Show, don't tell.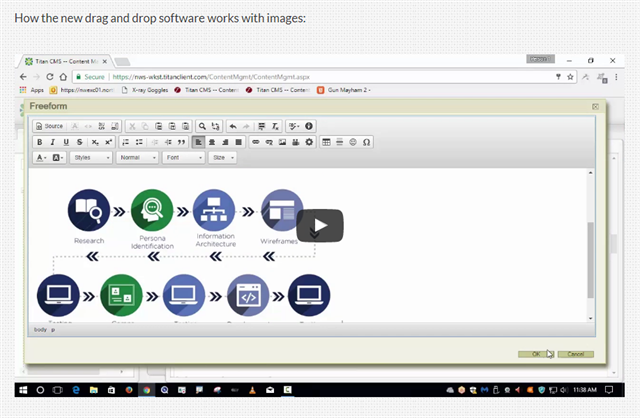 Check out the blog to see how video is integrated within the text
Webinars
Northwoods offers in-house workshops approximately once per week. This free sharing of information and expertise is a bedrock part of our branding and marketing. But we have clients all over the United States; they can't come to Milwaukee to take advantage of these sessions.
This year, we began hosting webinars for manufacturers. We address new topics every other month and host encores in the intervening months.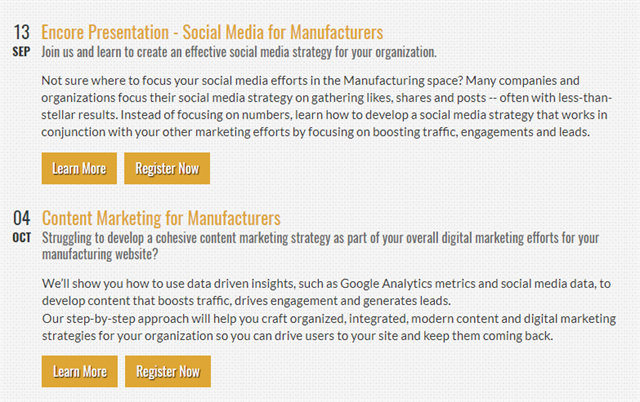 Our new webinars help us reach audiences beyond our in-person workshops
These well-attended webinars raise our profile in front of a nationwide audience. Even our local clients and prospects benefit from them. If they can't get away to attend in person, they can view similar content aimed at their industry from the comfort of their own desks. We intend to continue this very successful series into next year and offer an even larger array of topics aimed at particular industries.
Social Media
Growing organic social media numbers and engagement is tough. But paid advertising isn't the only way to fight the Facebook algorithm. We've made several changes – without resorting to ads -- that deepened engagement and increased fan growth.
Calls to Action
Social media users are bombarded with information as soon as they open their feeds. Very clear calls to action cut through the clutter and grab the attention of readers as they casually scan their pages. Calls to action also encourage social media engagement, our top goal.
The call to action is set apart from the rest of the content
Fan Growth
The who counts more than the how many. We prefer a smaller, highly targeted and engaged audience over a broad, larger social media following that doesn't really care. We employed several technical methods to raise our head count within our target audience.
An easy method on Twitter is to follow any accounts that like, retweet, or comment on your tweets. (We don't do this for accounts that already follow us.) They are clearly interested in your content; when you follow them, you remind them to return the compliment. You can easily see if the account likes your page by hovering over the notification. Note that Twitter sets a limit on how many accounts you can follow per day. Don't go follow-crazy, or you may find your account temporarily locked.
Engaging with other accounts also helps to grow your account organically. We engage with others across all of our social platforms. On Twitter, we try to retweet other relevant accounts on a regular basis. On Facebook, we thumbs-up worthy posts from clients, and we comment on industry content. Other users engage us back, and these exchanges raise our visibility.
Video
In a 2016 survey, 62% of B2B marketers called videos an effective content marketing tactic. Our experience supports that notion. We posted several videos on social media. Their great success prompted us to share videos whenever possible. We often promote our workshops with tips shot during the latest session. Our experiments with live-streaming portions of the workshops have shown promising increases in engagement, as well.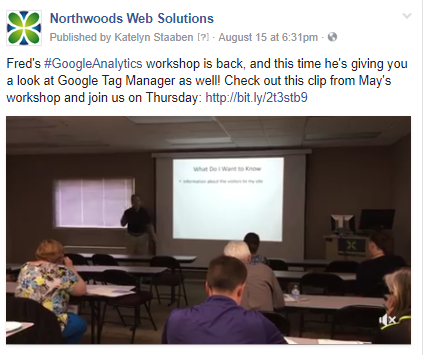 This video from a previous workshop helped raise awareness of an upcoming workshop
Marketing Automation
Marketing automation simplifies marketing processes and reduces administrative time.
At first, we failed to take full advantage of the vast capabilities of this software. Again, we learned.
Workshop Communication
Marketing automation especially supports our workshops. As soon as attendees sign up via a form on our website, marketing automation software takes over. It enters attendees into an automated process that notes their chosen workshop and tracks and routes them accordingly.
Originally, workshop registrants received an email reminder the day before their sessions, but that was it. No follow-up. No further tracking.
Today, attendees are entered upon signup into several automations. They still receive a reminder, but another automation sends a follow-up email, specific to their workshop, the day after the session. The follow-ups go out not only to those who attended, but also, in customized form, to those who didn't show up or request an evaluation of their website.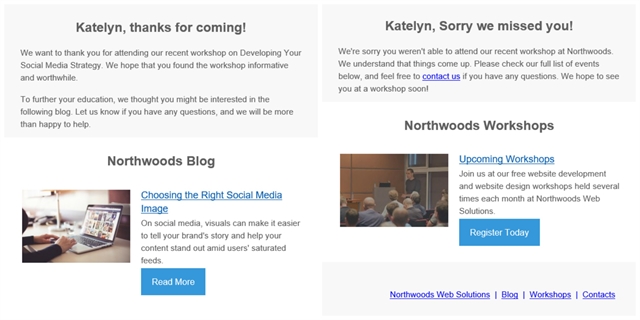 Attendees receive personalized content after the workshop
Measuring Success
We primarily use our marketing automation tool to send regular eblasts about upcoming workshops and our latest blogs. But we constantly experiment to see what else we can do with it.
Today, we use the tool to track both workshop attendance and how participants found out about our workshops. This tracking enables us to compare attendance sources and to keep an eye on users who sign up for many workshops but never actually attend. We can then route these users to a specialized campaign that targets them with messaging, or we notify a sales manager to reach out to the contact.
While these tracking measures take time to set up and test, once running, they require very little additional work. They provide incredibly valuable data that informs our decision-making regarding publicity and marketing of our workshops.
Not using marketing automation? Take a close look at your current processes and identify where automation could save money and free up time. Already using it? Try to push your software to its limits. You might be paying for great features you're not using but ought to be.
Northwoods has inhabited the web and digital space for more than 20 years, but our digital strategy continues to evolve. That's the fun and challenge of working in digital marketing – you never know which way the industry will go next. But wherever it goes, you must keep up or be left behind.