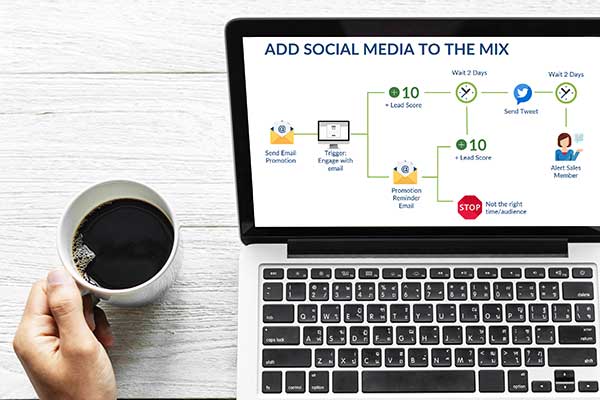 Marketing automation allows you to create workflows that are triggered based on defined actions such as a user submitting a contact form, downloading a product spec sheet, or simply opening an email.
Each trigger enters a user into a workflow which is a series of follow up messages usually sent a few days apart. These messages should contain relevant content based off the original trigger or predefined action. Below is an example of a marketing automation workflow.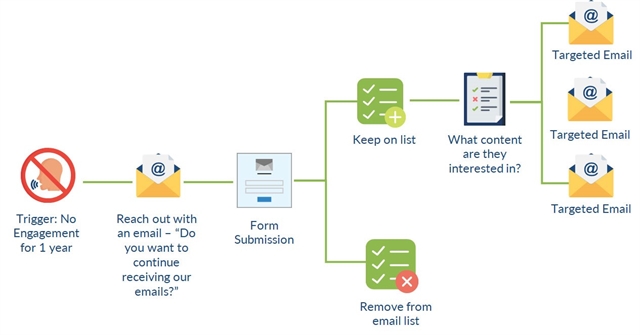 This automation is meant to target individuals who haven't been engaged with the company's website or emails. A simple follow up message is sent to these individuals asking them if they would like to keep receiving emails or opt out of your list. This is a great way to clean up your lists and remove any individuals who are not interested in learning more or working with your company.
It is also a great way to re-engage the individuals who are still interested in your company. Take it a step further by asking each user what content they are most interested in receiving from you. Moving forward, you can make sure to only send them content they care about.
How can manufacturers use marketing automation?
Manufacturers can use marketing automation in many different ways. A good place to start is by defining what you are hoping to accomplish through marketing automation by setting a clear goal.
We usually hear people say, "Our goal is to increase sales!", which isn't exactly news. Instead, determine how you want to increase sales. Identify current deficits within your business that you could improve on. Here are some sample goals to help get you thinking:
Expand on cross-selling opportunities
Focus on upselling
Improve customer retention
Increase distributor signup
Qualify leads better earlier in the process
Now that you have a goal set, you can get started. Below are a few different ways manufacturers can benefit from marketing automation.
Stay in touch with existing customers by reminding them when their product is due for maintenance or replacement. After a client purchases a product, they would be entered into a date-based automation. If the product they purchased needs maintenance every 6 months, the automation would send the client a friendly reminder that maintenance is required at that time.

Or instead of alerting the client, a sales representative could be notified. This would allow the sales representative to reach out directly to the client to add a more personal touch.

Ask for reviews or send a follow up satisfaction survey. Having reviews is great for SEO and asking if your customers enjoyed working with your company shows that you care about their experience. It will also provide insights on any areas of improvement so you can increase you client retention rate and get more repeat business.

Manufacturers love their tradeshows. Make sure to import any contact information received from a trade shows or industry event. Add these users to specific workflows based on what interests they expressed during the event. This eliminates sending that one generic "nice to meet you" email. Instead, you are providing prospects with useful information right away.
Can manufacturers who use distributors also benefit from marketing automation?
A lot of manufacturers rely on distributors to sell their product. Marketing automation can arm distributors with all the proper information and tools they need to easily sell products to the end user.
For example, let's say one of your distributors visits your website. Your company manufacture cups, bowls and spatulas. The distributor expresses specific interest in your spatulas by visiting the spatula pages.
Once they leave your website, you follow up with an email a few days later that asks if they would like brochures or marketing materials around your different spatula offerings.
*Please note, you might have their email because they previously submitted a form on your website, they have a distributor login, or the connection has been pre-established some other way. Just because a user visits your website doesn't mean you automatically have access to their email address.
Since the distributor expressed interested in your spatulas, they might have a customer in mind that could benefit from additional information. If they indicate they are interested in your print collateral, an internal team member will be notified to send them the information, or the distributors could be provided with a link to download the information directly from the website.
However, you want to make sure you represent your brand in the best possible way. By providing already printed marketing collateral – you have more control over how your product is being represented.
Then an automation is set to wait a certain period of time (2-3 days) before sending another email. This email could ask if they would like some samples or alert them to a discount around the product. A free sample might work for a single spatula, but maybe a free installation works better for your product.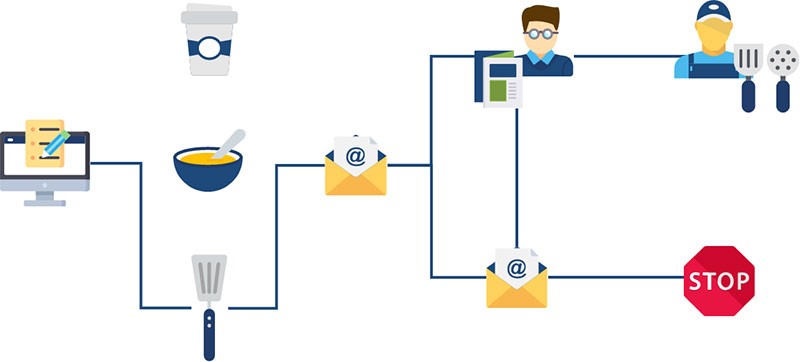 Wait – what if the distributor never requested additional information?
If the distributor did not opt to rece ive additional print collateral about your spatulas follow up with another email talking about the different applications your spatulas serve. Maybe the distributor didn't have a client in mind when they visited your website but were just interested in what products or services you have to offer. Sending them the different applications your spatulas are used for might make them think of a current client or prospect in their territory who would benefit from your product or service.
For example, the spatulas come in large sizes and are perfect for pizzerias because they have longer handles with wider tips. They can also withstand higher temperatures. Not only does the distributor now have a client in mind that might benefit from this service – but they are also armed with a solution to potential problems they weren't aware their clients were facing.
Providing your sales team with helpful information will make selling your products easier. The end user will also put more trust in your distributors expertise since they came prepared with information.
Don't go too far.
However, if the distributor doesn't open the second email, you could try to send a third email – but at one point or another, you will need to stop wasting your efforts. The point of marketing automation is get the right content in front of the right users at the right time. Don't keep trying to engage with users who aren't expressing interest. They aren't ready for additional information at that time but could come back later.
Getting started with marketing automation.
If you are unclear where to start, leverage your sales team. Take time to learn about the sales process and develop marketing collateral and workflows that improve the buyer's journey.
Sales and marketing goals need to align
For example, the sales team is trying to sell a new product, but they keep running into the same problem. Their prospects currently use a competitor's product and has been for a long time – making them less inclined to switch over to you.
The marketing team needs to know two things:
That the sales force is focusing on pushing this new product
And what hurdles the sales team is facing along the way
Knowing this information will help the marketing team ensure that they are developing the appropriate content that answers these questions or concerns. In this case, they will make sure that their marketing efforts include competitive information that mentions cost difference or benefits of switching to the new product. Maybe the material is better and more durable. Or maybe the new product is more efficient than what is currently being used.
It is important to know what the end user needs to know in order to make an informed purchasing decision. The sales teams know what questions users are asking and when the questions are being asked during the sales process. If sales and marketing work together they can create a fluid marketing automation process that addresses all of the end users concerns during the buyer's journey.