Digital marketing evolves at a dizzying rate. How can a marketer keep up with the latest lingo? All those acronyms -- SEO, SEM, SMM… what!?
Northwoods is here to help, with this handy cheat sheet that covers some of the newer terms you may have heard about and brushes up on classics every digital marketer should know.
What is AdWords?
Google makes money by taking bids on keywords that businesses and other organizations want to show up on Google Search Engine Result Pages. Successful bidders in these AdWords auctions see their keywords listings appear above organic searches. Usually, they're tagged as paid advertisements.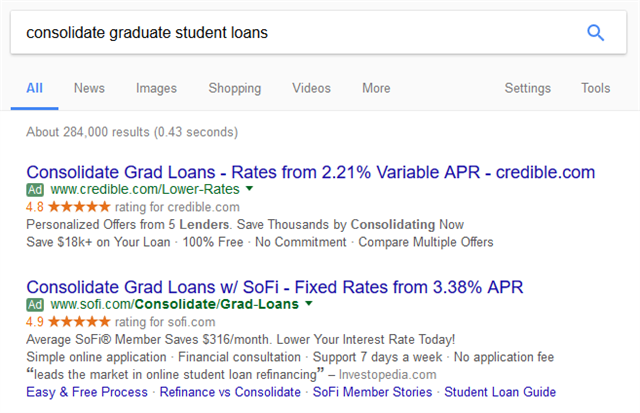 What is AMP?
Accelerated Mobile Project, an open source initiative, aims to make the mobile web faster for the ever-rising number of mobile users. Search engine operators want to give those users a fast, friendly, efficient experience when they search online via mobile device.
Check out our "Google AMP and Your Website" blog.
What is Content Marketing?
Content Marketing involves creating and sharing valuable content that attracts users to your website, enhances your brand and image, and establishes your position in your industry. Quality matters; search engines can determine relevance and value by analyzing user engagement. If users spend a lot of time reading and sharing your content, search engines will start to see your website as a valuable source of information and direct more and more users to your site.
For more on this, see "The Unsung Heroes of Content Marketing."
What is a CTA?
A Call-To-Action prompts your website visitor to actively engage with your company in some way. It could be by asking the user to download a white paper, sign up for your blog, fill out a form, complete a shopping-cart transaction, or make any other commitment, no matter how modest or ambitious.

What is Email Marketing?
Marketers at many companies and organizations have given up on sending emails to clients or potential clients. But email marketing remains an effective way to promote a recent blog, solicit donations, or to share a recent promotion.

What is Google Analytics?
Google Analytics is the most popular (and free!) way to measure and track a website's performance. Google Analytics allows companies or organizations to see how users interact with their website – what pages they look at, how long they stay on the site, and much more.
More at Google Analytics 101.
What is GTM?
A tag is a small snippet of code that runs on your website and gathers data about how visitors interact with your site. Google Tag Manager allows you to easily manage and update tags within accounts, such AdWords and Google Analytics, without editing any source code.
Check out our "What You Need to Know to Get Started with Google Tag Manager" blog post.
What are Inbound Links?
Users can discover your website in many ways. Most companies and organizations focus on drawing traffic through search engines. Many overlook Inbound Links, which occur when another webpage links back your website. For example: Someone mentions your company in a blog post or news story, and the author or editor adds a link to your site within that content. Inbound links not only win traffic, they also raise your Domain Authority.
What is Inbound Marketing?
This digital marketing tactic involves bringing potential customers to your website by creating brand awareness through SEO, content marketing, social media, infographics, and blogs. Inbound Marketing generates sales leads by making it easier for potential clients and current customers to find your products and services themselves.
Check out our blog, "Get Your Inbound Marketing Strategy Started."
What is a Landing Page?
A user entering your website for the first time does so via a Landing Page, which has traditionally been the home page. But users who find you via search engine could land on any page on your site. Thus, every page can and should be optimized to serve as an entry page and should include a call to action.
Follow the link to learn how to design the perfect landing page.
What is Lead Generation?
Many companies cite Lead Generation as a primary marketing goal. But what exactly does that mean? In terms of digital marketing, simply this: Engaging users with your brand by inviting them to express interest in a product or service, usually by joining a marketing list or filling out a form. Lead generation expands the universe of potential clients, which naturally – eventually – expands the universe of actual paying clients.
What is Lead Scoring?
Lead Scoring ranks the potential of a prospect to turn into a customer based on their engagement with your website or organization. Each company or organization creates its own scale of engagement by assigning relative values to user actions. This helps your sales team prioritize potential clients.
Learn more about how to create a lead scoring system here.
What is Marketing Automation?
Marketing Automation removes some of the manual labor involved in reaching out to website users. MA manages and automatically carries out repetitive tasks, such as sending prewritten confirmation and follow-up emails when a visitor signs up for an event or expresses interest in a specific service or product.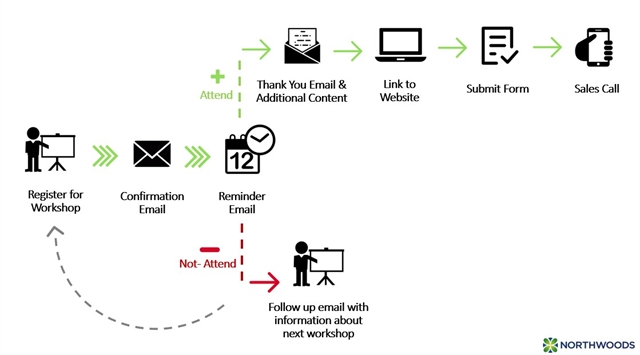 Read "Six Tactics for a More Effective B2B Marketing Automation Strategy" for more.
What is a Marketing Funnel?
Wouldn't it be great if every new visitor to your website purchased a product or service? Well, they don't. Which is why we have a Marketing Funnel. The funnel represents the step-by-step work required to convert a potential client into a loyal customer.
Learn more about the marketing funnel here.
What is Outbound Marketing?
Outbound Marketing reaches directly to customers through such old-fashioned tactics as snail mail, trade shows, cold calling, and even email campaigns. These antique tactics can still be effective, but they are in decline and work best as complements to your inbound marketing strategy.
What is PPC?
In a Pay-Per-Click campaign, a company or organization runs ads on search engines, such as Google or Bing, and pays for the advertisements only when users click on them. Ad cost varies, based on keyword frequency and competition.
What is Remarketing?
Wish you could reach out to users who filled out a shopping cart without submitting the final purchase? Well, you can! Remarketing involves reaching out to previous website visitors through email. A personalized email can remind a user about that abandoned cart. Or you could follow up with a visitor by showcasing products related to a recent purchase.
What is Retargeting?
Ever visit a website and then start seeing their advertisements display on other websites or social media? That is no coincidence. Retargeting allows you to advertise your company or organization to users who previously visited your website. This is one way to stay in front of users who have expressed interest in your product or service.
What is Schema?
Schema is code you put on your website to help search engines return more informative results. Schema appears in roughly 30% of search results, so you've likely seen it in action, even if you didn't realize it.

Read "Use Schema to Take Your Strategy to the Next Level" for more information.
What is SEM?
Search Engine Marketing has the same end goal as SEO: increasing website traffic from search engines. However, SEM involves purchasing traffic through paid search listings as opposed to attracting it organically.
What is SEO?
The point of Search Engine Optimization is to drive organic traffic to your website through search engines such as Google and Bing. Taking the time to optimize your website and develop an effective SEO strategy will help your sites rank higher for targeted keywords.
What is SMM?
Social Media Marketing leverages social media to increase website traffic. You do this by creating content that users share with their own networks, thus expanding your brand's exposure and reach. More and more companies are also taking advantage of paid social media advertising.
What is a Snippet?
A Snippet is a small string of code that runs on your website and gathers data about how visitors interact with your site. If you're running Google Analytics, you're working with a snippet of code that returns information such as page views, time on site, landing page, etc., to Google.
What is Social Advertising?
Social Advertising is a form of paid advertising that only displays on social media platforms, such as Facebook or LinkedIn. It is a cheap and efficient way to reach a target audience.
What is UX?
UX stands for User Experience, which takes into consideration how a user feels during and after visiting a website. Does your website take a long time to load? Is it hard to find contact information? Is the navigation confusing? If you answered yes to any of these questions, your website might frustrate your visitors and cause them to leave.
Learn more about user experience from our infographic.
What is UTM?
Urchin Tracking Module derives from a company Google purchased back in 2005. UTM is text added to a URL once a link is clicked. Google Analytics uses this additional text to help you better track the sources and effectiveness of specific campaigns.
For Example:
When I click on a tweet from Moz, I am taken to one of their fantastic blog posts. Take a closer look at the URL. They added a UTM tag to better track their social traffic. Moz knows that Twitter brought me to their post.

Check out our blog, "UTM Parameters, Email Blasts, and Google Analytics."
Did we miss anything? Just contact us with your favorite digital marketing term and we'll be sure to add it to the list!