(April 12, 2015 – Updated February 13, 2017)
Location, location, location – it's as important in SEO as it is in real estate.
With increases in location-based technology and smartphones, local SEO is now important for all companies – from restaurants to manufacturers.
For example, when a user searches "garden tools," Google determines their location and returns nearby results. Making sure your website is set up for these searches will help you rank better on SERPs (search engine result pages) and mobile map pack results.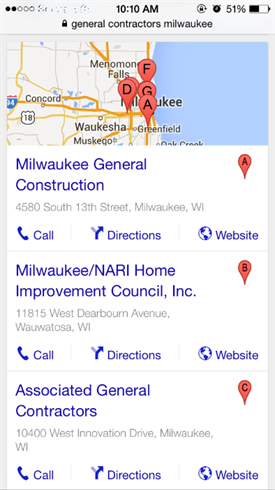 The map pack pictured above is a local search result displayed on a smartphone after a user completes a Google search.
Below is a checklist you can use to start optimizing your site for local search:
Where are you? Whenever possible, include your location in your:

Page title: "Garden Tools| Milwaukee, WI" is likely to rank higher than a page titled "Garden Tools."
URL: You probably can't include your location in your homepage URL. However, including it in the URL of other pages (think: www.gardentools.com/milwaukee-products) can signal local relevance to search engines.
Meta description: Google doesn't use meta descriptions to rank sites. However, it's still displayed on their SERPs, so strong descriptions can boost click-through rates. Also, Bing (and Yahoo) do use these descriptions to evaluate sites, so including location information can expand results on those platforms.

Google My Business: Verifying your business through Google My Business is the first step in making sure you get listed on the Google Local Pack. Once verified, you can include photos and links to make sure people can find you on Google.



Don't forget about Bing and Apple: Apple Maps accounts for three times as many searches on iPhones than Google Maps. Make sure your business information is updated in Apple Maps. Bing, although not used as much as Google, still is an important search engine, so make sure your listings are correct there too. Have many storefronts or facilities? Include them all.
Add Schema Markup to your Page: Schema markup, additional code added to your website, tells search engines exactly what your page is all about. You can use it to tell Google your business details, including logos, founders, social media accounts, blogs, and more. These elements can then appear in the knowledge graph on a Google Search Results page.



Reviews: Even for a B2B company, reviews play a critical role in local SEO. The more reviews you have on Google, the higher your placement in the Local Search Pack. Bing Local is based on Yelp reviews, so make sure you are on Yelp and getting reviews for your business.
Develop Location-Based Content: Your blog can have content aimed specifically at local searches. Search engines love fresh content that helps answer people's questions, so update your blog frequently and include location-based keywords in your content.
Don't forget social media: Did you know Twitter users conduct more than 2 billion search queries a day? Include contact information on your social profiles or hashtag your location in your tweets or posts to tap into these searches. Additionally, since social results often take up space on top of SERPs, you'll have extra opportunities for new visitors.
Optimizing for local search is yet another to-do list item, but worthwhile. Take the time to ensure that your website is set up for local search patterns, and watch traffic rise.