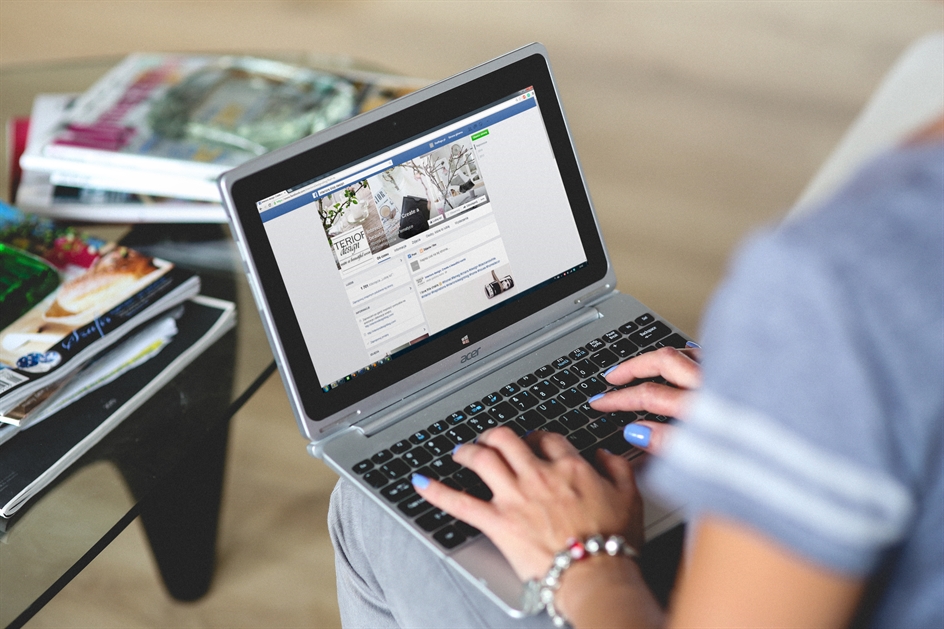 You've worked hard on social media strategy. You've created great content and devised a strategy for leveraging it to enhance your brand.
Now what? Details.
Social media marketers must format correctly for each platform to get the most benefit from that great content. Competitors and general internet noise clamor for attention on all the platforms. Proper formatting can make your social media posts just a little more inviting than the rest, and that can make all the difference.
Are you a social formatting hero, zero or somewhere between? Take our little quiz to find out. Spot the social media mistakes in the sample posts we've created, then read on to see how to fix them.
Facebook
Let's start with Facebook. But before we get to Facebook post format practice:
Q.: What's wrong with this page?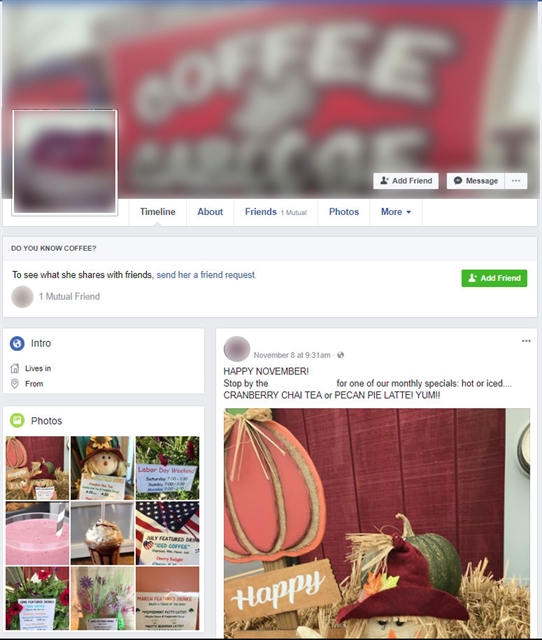 A.: The layout of the page and the Add Friend button give it away: This is a personal page -- wrong for business.
Facebook has separate types of accounts for businesses and personal profiles. Yet many businesses persist in creating personal profiles. First, this looks unprofessional. Second, Facebook's algorithm treats business pages differently, and businesses that categorize themselves as individuals miss out on such features as:
The masquerade also violates Facebook's Terms of Service; they might delete your account. If you got this wrong, fix it before you move on to proper formatting of individual posts.
All fixed? Great. Let's talk about Facebook post format.
Q.: What's wrong with this (fake) Northwoods social media post? We'll wait.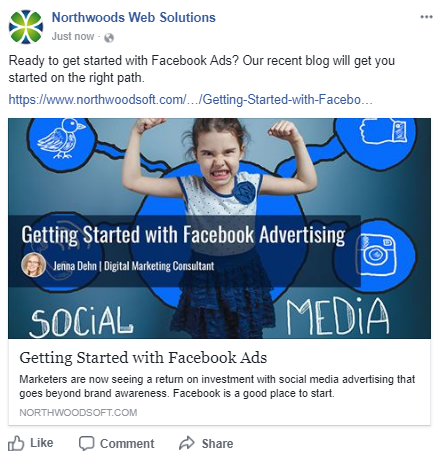 Give up?
A.: That superfluous blue link in the body of the post -- get rid of it. Once the link preview box populates with an image and headline from your site, the linked preview will remain even after you cut the URL from the post above. So clean up your copy.
Q.: What's wrong here?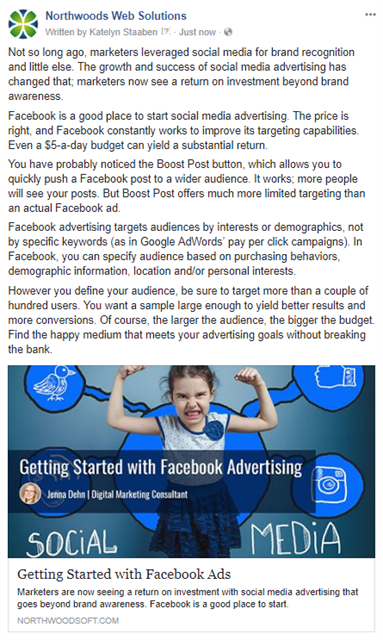 A.: Remember your distant cousin's 1,000-word nostalgia essay when she ran across her high-school yearbook? That's what's wrong. Facebook tolerates an incredibly high character limit. Your readers will not – especially on a business page. A study from BuzzSumo showed that posts with fewer than 50 characters win more engagement than longer posts. Less is more.
Twitter
Q: How many Twitter hashtags are #TooMany?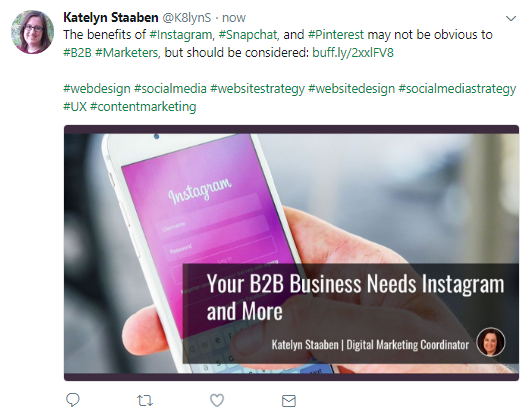 A: Three.
Once you start adding Twitter hashtags, it can be hard to stop. Please, curb your enthusiasm, even if you face a gaping chasm of unused characters. Most studies recommend a maximum of two hashtags per post. Beyond that, readability and engagement begin to slide. Use fewer, but make them count. Do some research; find the most relevant hashtags.
Here's that same post, formatted a little differently.
Q.: Now what's wrong?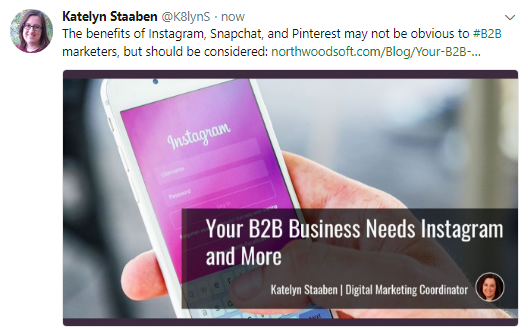 A.: See that URL that runs off the screen? Bad Twitter post format. Shorten your links. Even with Twitter's recent doubling to 280 characters, real estate is dear. Go to such sites as Bitly and Google Link Shortener to trim your links.
Instagram
Q.: What's wrong with this picture?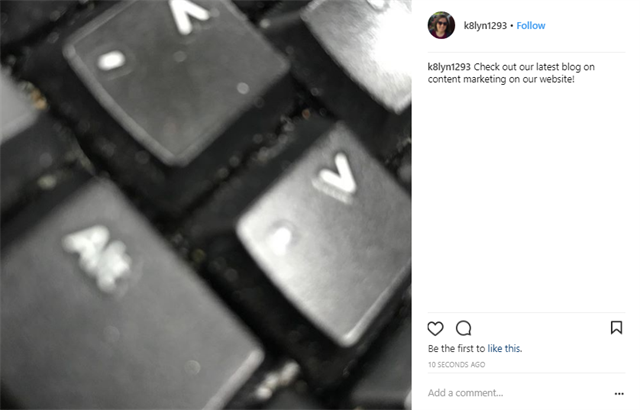 A.: Everything. It's out-of-focus, uninteresting, and has little to do with the copy. Instagram abounds with high quality images. Don't look like a sad sack by comparison. You don't need a professional photographer for Instagram, but do follow some basic photography principles.
Q.: What else is wrong with this picture?
A.: What the heck? #Nohashtag!
All search on Instagram revolves around hashtags. You can't search for anything else. Keywords in the post copy count for nothing. Even if your account name includes the words you're targeting, you won't appear in search results for those words unless you also include that keyword in your hashtags.
Unlike Twitter, good Instagram format calls for lots of hashtags. So max out the hashtags on every post in order to appear in more search engine results. But don't include them in the copy. Put them in a comment or after several line breaks to keep your caption clean and to make your post show in a wide variety of search results.
This post seems perfect.
Hashtags are in the comments, but not in the copy. The photo quality is decent, and we've included a shortened link.
Q.: So… is it perfect?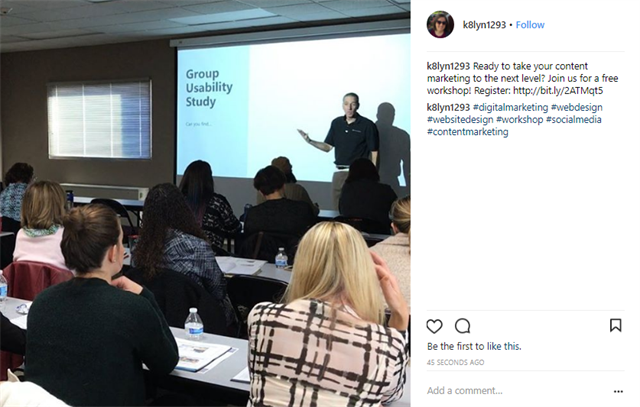 A.: Of course not.
Instagram does not support links in the captions or comments of posts. They allow organic links only in the website link portion of your profile, and even there limit you to one. A link in the copy of your post isn't clickable and is therefore useless to your Instagram fans. If you really want users to visit your webpage after seeing your content, change your profile link to that page and tack "Link in bio" at the end of your post copy. Regular Instagram users will get it, and if they really want to get to your website, they will.