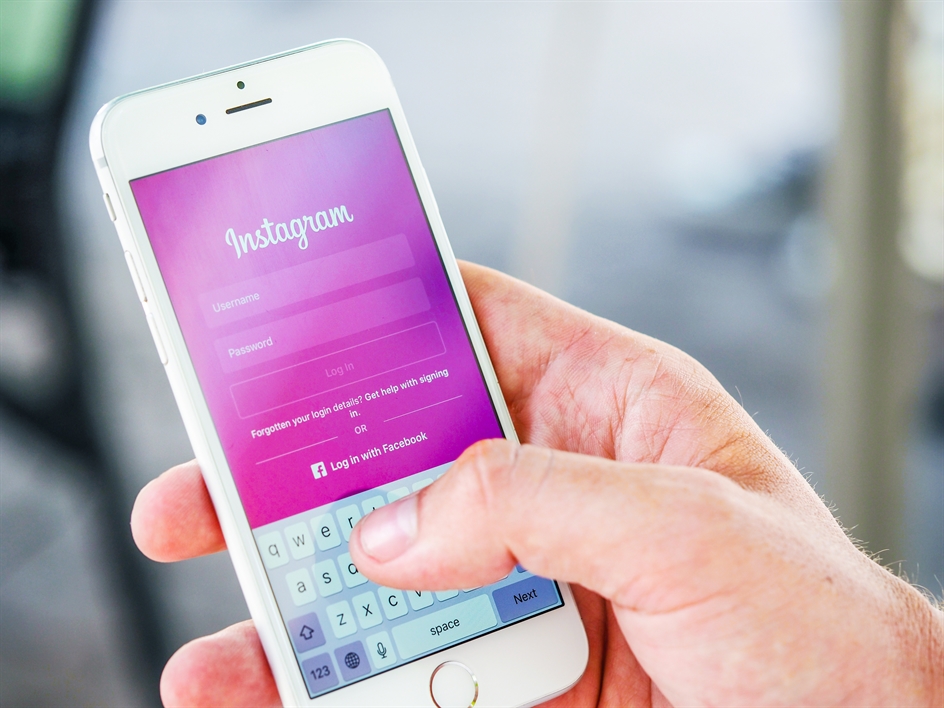 (Originally published 6/1/2015 - Updated 10/9/17)
We'll say it again. Your B2B business should jump on Instagram. And Snapchat. And Pinterest.
Shocking? Well, OK, let's backpedal a bit. You should consider an Instagram Strategy, a Snapchat Strategy, and a Pinterest Strategy.
Many B2B companies don't take advantage of everything social media offers. Those that do jump on board tend to focus heavily on LinkedIn, or maybe Facebook and Twitter, and ignore other channels. We've already addressed LinkedIn snobbery. Now, let's examine the value of channels employed too rarely in the B2B world. But first, let's address the reasons manufacturers shy away from social media in general and from the off-the-beaten-path platforms in particular.
"B2B audiences don't use these channels"
Audiences differ across social platforms, and certain social channels skew older or younger. Still, all channels attract diverse audiences. You'll find at least part of your target audience at even the least obvious platform.
Do gain a clear understanding of who actually uses a channel before you discount it. The demographics might surprise you. Don't assume that everyone on Snapchat, Instagram and Pinterest is under 25. More mature audiences do take advantage of them.
And what's so bad about having a younger audience at your fingertips? You may not think of that cohort as your ideal end customer, but they're in the workforce assisting those making the final decisions. Nearly half of all professionals doing research for B2B purchasing decisions are millennials. Don't exclude them from your marketing strategy.
Maybe your goal for these channels might be something other than reaching your end customer. It might be recruitment or brand exposure. Manufacturers are people, too. They spend time on personal social media. A VP of Sales could be scrolling through Pinterest one night trying to choose a recipe for dinner and happen upon one of your pins. She may not be looking for that information now, but when she gets back in to the office the next day and needs your services, you'll be top of mind.
"My competitors aren't using these channels"
If your competitors jumped off a cliff, would you?
Certainly, keep an eye on your competitors' social media activities, but don't let them dictate your marketing decisions. Their missed opportunity is your advantage. If you can find a fruitful way to place content on channels they ignore, do it.
"These channels are too new. They're going to disappear like MySpace or Google+."
Pinterest and Instagram launched in 2010, Snapchat in 2011. In digital-history terms, that's like the Middle Ages. Each platform has amassed millions of active users, and all have continued to grow in recent years.
They're low-risk. They come with no entry fees or other platform costs. You only invest the time and energy for set-up.
You risk more by not adapting to the times. The best digital strategists can tell fads from long-term trends. These three platforms have passed beyond the fad realm and have become industry heavy-weights. Many major brands have already begun utilizing them.
"These social channels won't drive sales."
Typically, social channels do not drive sales, especially for B2B marketers. Social media is far too high in the marketing/sales funnel. Focus instead on driving brand awareness and loyalty, and on recruitment. These channels show potential employees what your organization is all about.
So, what should B2B marketers post on these channels? This varies by platform:
Instagram
Instagram describes itself as "A simple, fun & creative way to capture, edit & share photos, videos & messages with friends and family." But it isn't just for food photography and celebrity selfies.
Instagram has grown from a simple photo sharing site to a social media juggernaut, with more than 600 million active users. The platform has been widely adopted by a younger audience. According to a Pew Internet Research study, 59% of adults between the ages of 18 and 29 and 31% of adults between 30 and 49 use Instagram. Though the gender ratio has narrowed as the platform has grown, women still hold the majority; 38% of online women use the site, compared with 28% of online men.
Instagram Engagement is Key for B2B
The largest audience for most B2B companies is on LinkedIn. Fine, but guess what? B2B businesses receive 20 times more engagement on Instagram than they do on LinkedIn. Every brand ranks engagement as the key performance indicator for social media, regardless of industry. Instagram can deliver engagement to B2B companies in a variety of ways.
Showcase Company Culture
Instagram is ripe with opportunity for talent recruitment. Many B2B companies use the platform as their HR photo album, sharing images from company events as well as shots from inside the office. This helps paint the picture of what your business is all about, both to potential new employees and to other businesses looking to partner with you.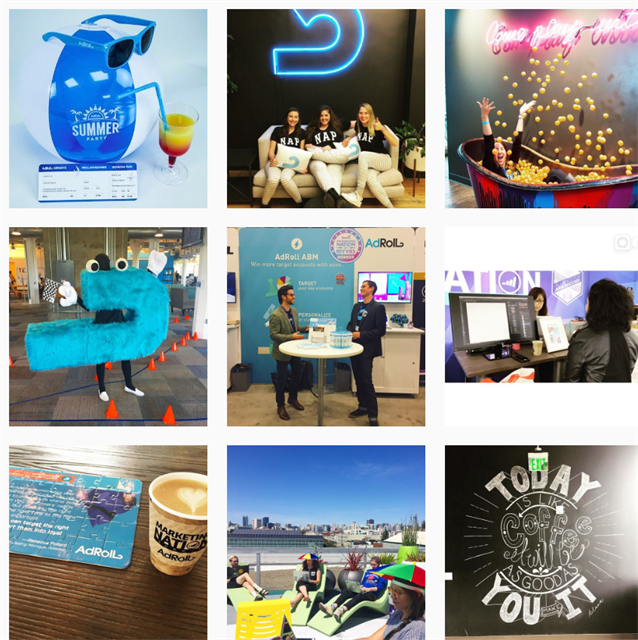 Adroll does a great job of this on its Instagram account. The photos are fun, like the company culture. A glance at the images immediately conveys their office environment and employee perks.
Share Dynamic Product Photography
Visuals are key on Instagram, regardless of topic. The right hashtags can find an audience for anything, including your products. Even images of B2B products, usually regarded as boring to photograph, can help tell exciting stories. Almost anything can be beautiful, if photographed beautifully in beautiful light.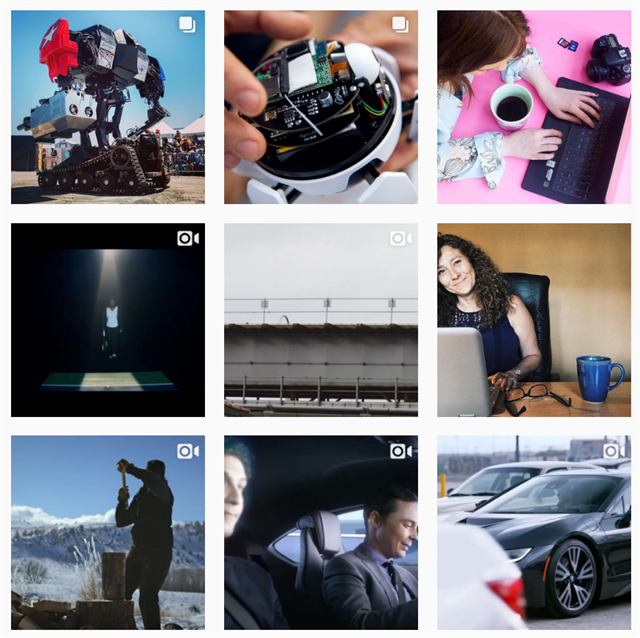 While Intel offers a variety of products and services, its Instagram branding sends a cohesive message. Through branded video and interesting photography, Intel tells the company story and shows products in ways that engage users.
Build Branding Opportunities
Your social media accounts should be extensions of your brand, and Instagram is a great place to showcase that brand. Think about the topics and messages that interest your audience. Address content to those interests and share it as often as you can.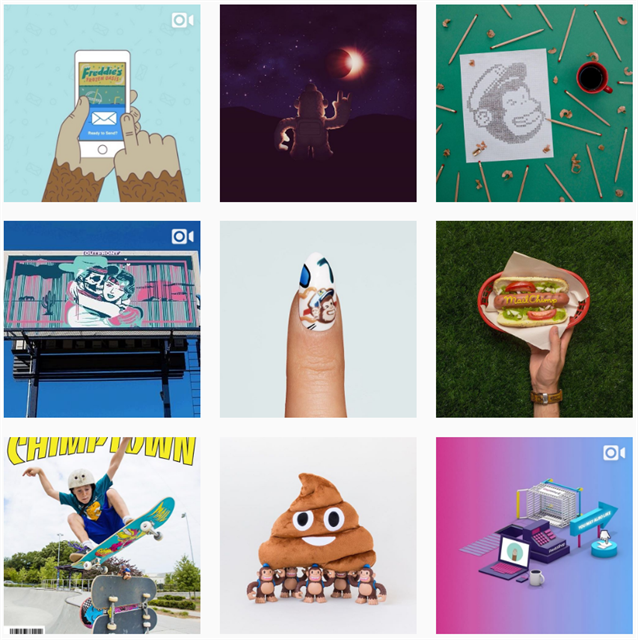 Mail Chimp's Instagram has this down. Their audience relates to and enjoys the quirky, signature style of their posts, which immediately identify as Mail Chimp. Overall branding ties these unique posts together and creates a great experience for fans.
Snapchat
Snapchat, the newest social media giant, launched seven years after Facebook. The platform has grown to the point that it cannot be ignored.
Snapchat's audience has continued to grow since its IPO in early 2017, to more than 173 million daily active users. The audience has always skewed young. The largest demographic, 18 to 24-year-olds, makes up 37% of all users. However, this audience may be taking a turn. More than half of the new users currently joining the platform are over 25.
Snapchat's audience is passionate. Passion offers opportunity to B2B marketers.
Quick, Easy, Immediate
Snapchat is quick, easy to use, and immediate. Unlike other social media channels, Snapchat doesn't need constant maintenance. Facebook and Twitter require you to post on a regular basis in order to stay relevant within their algorithm. Snapchat is simpler. You can set up the account, wait until something relevant happens, and then send out a snap. There's no algorithm to fight; your post automatically goes to everyone who has followed you. This saves time for marketers, and opens several opportunities for use.
Showcase Company Culture
Snapchat's speed, ease and spontaneity make it perfect for showcasing company culture. You don't need to take the perfect shot. Point, shoot, post. Your fans will enjoy the feeling of direct access, rather than a filtered marketing message.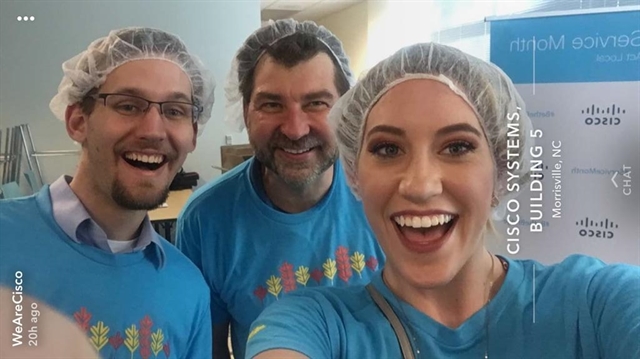 Cisco (WeAreCisco on Snapchat), a B2B organization, fully exploits Snapchat. It frequently allows its employees to take control of the company Snapchat, to show fun employee events and volunteer efforts. This gives potential employees insight into what it's like to work there. For Cisco, Snapchat is a great recruiting tool.
Utilize Event Filters
Snapchat's geo-filters have set the platform apart as it has grown up. The filters remain one of the channel's strongest features. (Competitors have begun to replicate them.) For a small fee, you can create a geo-filter for your specific event or location, making it even easier for attendees to share news of their outing.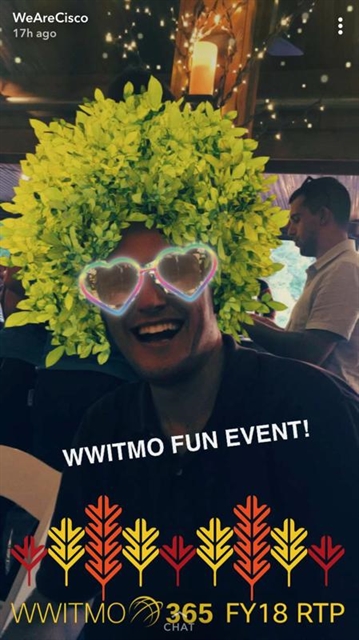 Cisco, again, does this well. They often set up event filters for employee conferences, or they use already established filters for events they are attending. They also use Snapchat's augmented reality filters, such as the fun mask seen in this photo, to give the photos more personality.
Generate Internal Engagement
Establish a geo-filter around the building and encourage employees to use it. Share snaps of treats for employees or encourage them to take photos in front of various office areas and send them back. Then collect the snaps and share them on other social channels to highlight company culture. If you have fun with it, your employees and customers will, too.
Pinterest
Pinterest differs from other social media. Its purpose is not so much sharing a status or photo, but rather documenting and organizing ideas into categories. This presents a different set of opportunities to marketers.
Women have dominated Pinterest since its release six years ago. Currently, 45% of online women use Pinterest compared to only 17% of online men. The Pinterest audience has begun to skew older as the site has aged. The audience breaks down as follows: 36% of 18 to 29-year-olds, 34% of 30 to 49-year-olds, 28% of 50 to 64-year-olds, and 16% of those 65 and older. This is probably due to the nature of the content on this platform.
Not just for Housewives
The average Pinterest user isn't regularly active on the site. Unlike other social media channels, Pinterest users are typically event-based. They use the platform because they are looking for information that will help them in a specific task, such as planning a party, choosing a recipe, or booking a vacation.
Pinterest is known for ecommerce and recipes, two things not normally associated with B2B. But regardless of Pinterest's topic focus and irregular use, B2B manufacturers can tap into it.
Showcase Company Culture
Yet again, culture is a great place for B2B marketers to leverage Pinterest. Create a board showcasing your employees or company events, link to it from your website, and help those interested in your services get to know the people who perform those services.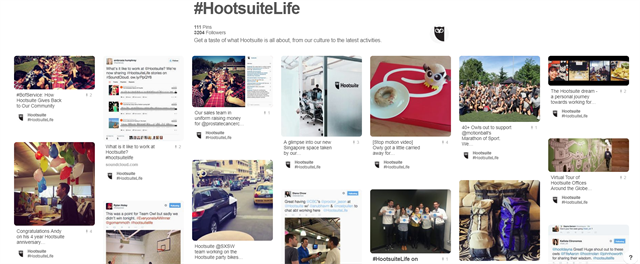 Example: The #HootsuiteLife board. Hootsuite shares photos from around its offices, to build trust and introduce customers to the people behind the organization.
Share Owned Content
Do you have white papers, blogs, ebooks, infographics, or anything else of the sort? Then you have content perfect for sharing on Pinterest. Organizing that content clearly is simple on Pinterest boards, and you just might find an interested audience there.
Tap into Popular Categories
Pinterest's platform is organized into a set of pre-established categories, such as food, fashion, and fitness. Finding ways to pin content to these high-traffic categories could be one key to Pinterest success. Even if your content does not precisely fit a category, there may still be ways to join.

GE has mastered Pinterest strategy. General Electric taps into pre-existing categories in several different ways, from meeting the arty-crafty audience with a "DIY Science board" to reaching the tech audience with X-Ray images. GE devises imaginative, Pinterest-friendly ways to showcase its products.
Is it worth it?
The less-obvious B2B social media platforms offer opportunity, but which are right for you? That can be hard to determine. You must decide case by case, and then test to see what works for your audience.
At least explore the possibilities. You might be surprised by what these platforms can do for your brand.